Reliable, dependable, full service electric motor repair since 1977
SERVICING A FULL LINE OF ELECTRIC MOTORS
Repairing motors from a plethora of different industries including: Petroleum, Maritime and Manufacturing
ABOUT US
Demaria Electric customers include refineries in the petrochemical industry, Container Terminals in the Port of Los Angeles and Long Beach, Water Municipalities, Power Generation Stations, and Pipelines to name a few. We have developed great relationships with these customers…
THE DEMARIA LEGACY
In 1977, Anthony Demaria Sr.'s lifelong dream of opening an electrical repair shop became a reality. With the help of his sons, he worked out of his garage, mainly catering to the maritime and fishing industries in the Los Angeles and Long Beach Harbors…
A Service Leader Specializing in
Engineering and Coil Redesign
With our in house Electrical Engineer and the support of EASA engineers and programs, Demaria Electric is able to engineer and design windings for higher starting torque or horsepower. All coil designs are calculated through an EASA certified computer program.
Computerized Core Loss Testing
Core loss testing is a vital step in the rewind process. Every core is tested with our Phenix CL-125 to ensure the watts per pound ratio is adequate for the cooling process as the motor is running. Inadequate cooling will cause damage to the windings and shorten life expectancy.
VPI System
Our Vacuum Pressure Impregnation system contains 100% Von Roll #74041 epoxy varnish. Our system is computer controlled and recorded to validate the process. The varnish is tested by an independent lab monthly for insulation value and contaminants.
D.C. Motors and Generators
Capabilities include rewinding D.C. shunt fields, series fields, interpoles, and armatures. All coils are manufactured in-house and tested to the latest EASA specifications. All commutators are turned and undercut using our state of the art CAM Innovation undercutter.
Vibration Spectrum Analysis
Every motor is tested by our Vibration Engineer prior to shipment. Using the SKF Multilog IMx-S 24 bit analog digital converter with a dynamic range of 120 dB we are able ensure the motor integrity upon shipment. With 30+ years of historical data we are able to compare spectrums of individual motors over its service life.
Balancing to API Specifications
Using our Schenck Cab 920 balancer, all rotating equipment is balanced below API (American Petroleum Institute) Specifications. Our technicians are trained and certified by Schenck University. Our unit is certified and calibrated every year by a Schenck certified technician.
FAMILY OWNED AND OPERATED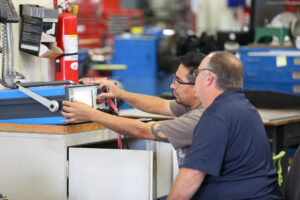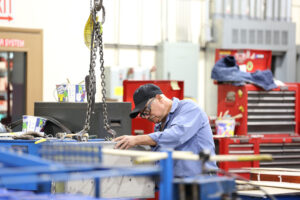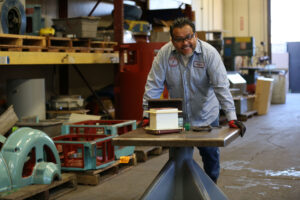 Phone: 562-663-9000
Fax: 562-663-9100
DEMARIA ELECTRIC MOTOR SERVICES, INC.
7048 Marcelle Street
Paramount, CA 90723
EMERGENCY RESPONSE
24 Hour Emergency Response 7 Days a Week
Straight Time Rates
6 a.m. to 11 p.m. Monday-Friday
Pickup and Delivery
Martin Villarreal:
310-714-9209
Robert Martinez:
562-644-1574
Jesse Cervantes:
323-793-9951
Raymond Ortega:
310-345-2532
OFFICE HOURS
Mon: 8am - 5pm
Tue: 8am - 5pm
Wed: 8am - 5pm
Thur: 8am - 5pm
Fri: 8am - 5pm
Sat: Closed
Sun: Closed