From our Founder's dreamt aspirations and fabricating them into reality, read all about our beginnings below, as well a quick mention about who we are and how we operate.
Since 1977
In 1977, Anthony Demaria Sr.'s lifelong dream of opening an electrical repair shop became a reality. With the help of his sons, he worked out of his garage, mainly catering to the maritime and fishing industries in the Los Angeles and Long Beach Harbors. Four decades and three locations later, they have produced a world-class operation that has been proudly serving the petroleum, power generation, maritime and industrial manufacturing industries.
Demaria Electric has always taken great pride in the quality of its service and the skill of its workforce. Together with the unwavering commitment to use the best materials, technical analysis and equipment ensures that you receive unbeatable reliability each and every time.
We encourage you to find out for yourself why Demaria Electric Motors Services has earned it the reputation as the true southern California industry leader in the repair of electromechanical rotating equipment and why they should be your first choice going forward.
Demaria Electric customers include refineries in the petrochemical industry, Container Terminals in the Port of Los Angeles and Long Beach, Water Municipalities, Power Generation Stations, and Pipelines to name a few. We have developed great relationships with these customers due to the continual growth and adaptation to their needs and standards. Demaria Electric encourages an open door policy to any customer large or small to stop in and check on the status of their motors. Most customers prefer to witness electrical testing, while other customers like to witness refurbishments from start to finish.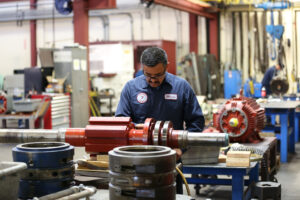 Demaria Electric is always on the forefront of the materials and testing specifications, due to ongoing developments in the electric motor repair industry. Motors that do not show obvious signs of winding damaged are steam cleaned and baked in an EPA compliant oven maintaining 275 degrees Fahrenheit. The motors are tested using the latest NETA (National Electrical Testing Association) maintenance standards along with IEEE 522 motor testing standards. The results are taken and recorded using a Baker Motor Analyzer. All test results are reviewed by our in house Electrical Engineer and NETA level 3 test technician. We use the highest-grade Nano Shield wire that is rated for high stresses due to high transient voltages produced by IGBT type inverters. Every rewound motor is put through a VPI (vacuum pressure impregnation) process with a 100% Von Roll #74041 epoxy varnish coating.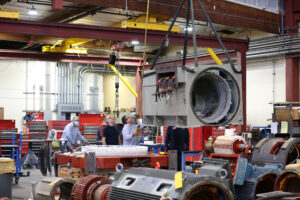 The rotor is balanced below API (American Petroleum Institute) Specification, 4W/N with our in house Schenck Cab 920 balancer. Bearing housings and shaft dimensional checks are made and recorded of each motor for proper diametrical clearances and room for thermal growth. Demaria Electric has a complete machine shop and employs three full time machinists, so any machining can be performed without delays. All bearings installed during the assembly process are manufactured from either SKF or NTN. Our in-house vibration engineer using SKF software and a Blanchard ground base tuned to 8500 db assists in making each motor ready for service when delivered to the customer. With these steps listed above Demaria Electric has been able to reduce the cost of motor maintenance with most every customer. This has been shown by the increased duration in which motors need to be pulled for service and by the decrease in failures.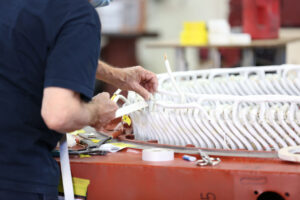 Demaria Electric Motor Services Inc. is a company that prides itself on the product that is produced within its walls and, with investing in the employees and family, we plan on many years of continued successful service.
Phone: 562-663-9000
Fax: 562-663-9100
DEMARIA ELECTRIC MOTOR SERVICES, INC.
7048 Marcelle Street
Paramount, CA 90723
EMERGENCY RESPONSE
24 Hour Emergency Response 7 Days a Week
Straight Time Rates
6 a.m. to 11 p.m. Monday-Friday
Pickup and Delivery
Martin Villarreal:
310-714-9209
Robert Martinez:
562-644-1574
Jesse Cervantes:
323-793-9951
Raymond Ortega:
310-345-2532
OFFICE HOURS
Mon: 8am - 5pm
Tue: 8am - 5pm
Wed: 8am - 5pm
Thur: 8am - 5pm
Fri: 8am - 5pm
Sat: Closed
Sun: Closed